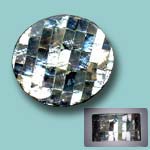 (JB0012) Pill boxes materials used abalon shell size: 38 mm x 28 mm.
copyright © 2000
JUMBO PACIFIC
All rights reserved • powered by
JUMBONET®

Here is an assortment of pill boxes to help you organize your medication and supplement schedule. Containers and Measures : Pill Box - fits easily into pocket or purse...